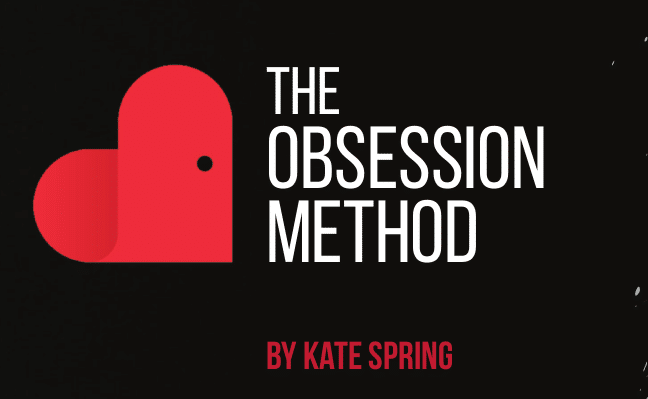 If you're interested in Kate Spring's Obsession Method, I suggest you read this before visiting the sales page.
Why?
Because although that page does a good job of getting you curious, it doesn't tell you much about what's inside the program.
It's a bit too hype-y and vague for me, as well.
What is The Obsession Method
… and is this program for you?
Lucky for you, Kate tells you just that from the introduction:
This program is for you if you're interested in learning how to pick up as many women as you possibly can, or if you're just interested in finding a more long term relationship. We've got everything you could possibly need to know, from getting laid or to getting a girlfriend.
There you have it.
If you're single and you're looking for a girlfriend or just get laid, this could help you with that.
I would even say that, even if you are at the start of a new relationship, and you want to keep your girlfriend interested in you for as long as you want, you'll find the last chapter and modules to help you with that.
While many programs leave you hanging once you get a girl to commit to dating you, this program takes you through your entire journey.
You'll start with how to approach women, all the way to keep her long-term obsessed with you.
Unlike other programs, this will also help you in maintaining that relationship once you have it.
In short, The Obsession Method will provide you with all of the tools necessary to gain confidence, meet women, turn women on, get a girlfriend, and learn some strategies to keep a relationship in the long-term.
If you are tired of striking out and feeling awkward around women, get ready to:
Gain a better understanding of the opposite sex,
Ease your anxieties around your interactions with women,
Improve the way that you interact with women, and,
Take control of the way that women see you and feel about you.
If you are a man who feels like no matter how hard you try, you can't figure out how to attract genuine interest from hot women and make that interest last longer than 'hello' then, you should give this a look, regardless of what you look.
Why?
Because finding a girlfriend rarely has anything to do with how you look, but everything to do with how you make a woman feel.
Visit the Official Product Page!
Based on all that, you can assume that there are a lot of topics covered in this program. The ebook is 202 pages, and there are almost thirty videos, not including the bonuses and audios.
What's Inside The Obsession Method
I take it that you want to know the actual content and how it is all laid out.
Well, there are a total of four parts and eight chapters broken down into modules, with each module having a complementary video.
Take a look.
PART 1 Approach
CHAPTER 1: Sensual Emotive Xeroxing (S.E.X)
CHAPTER 2: Encounters in Intimacy
PART 2 Attract
CHAPTER 3: Conversation Confidential
CHAPTER 4: How to Get a Girl's Phone Number
CHAPTER 5: Ace Attraction
PART 3 Seduce
CHAPTER 6: Subliminal Signal System
CHAPTER 7: Dating
PART 4 Secure
CHAPTER 8: How to Keep a Woman Interested Long Term
Looks good so far.
Anyway.
Know that I won't be able to cover everything here, just a bit of an overview of each chapter and be selective about it. And I'll save my thoughts in the final section of this page.
In the meantime
Here's What You'll Learn
Approach
The first part is about approaching, but the first chapter does not talk about that, not yet.
No.
Chapter 1 is all about preparing you to understand the characteristics of a male that walks into any room and gets noticed immediately, whom women feel immediate attraction, a desire to be with, and even one that women obsess over.
And to do that, you first have to train your mind to become THE MAN that is comfortable and confident in going after what he wants.
If you haven't guessed already, the author is talking about the qualities of the Alpha Male Mindset.
I have to tell you though, the qualities are not what I was expecting.
You'll get a lot of tips to put this into practice, which will come in handy when you start approaching women.
You'll also get a few exercises you can do to get your mind and body more confident and get you on your way to achieving the alpha male mindset.
In Chapter 2, you'll learn how to approach women and make a lasting impression. You'll develop a skill set and have the tools and confidence in any situation you find yourself in.
You'll come to understand why the fear of rejection is worse than rejection itself.
You'll have four different types of approaches — broken down into simple steps — that you can try, three you can use during the day, and one is how to approach women at night, and of course, with some examples.
Attract
After the approach, you'll need Chapter 3 when you get face to face with a woman and when you have to maintain a conversation with her.
It will help you to develop the ability to take whatever a woman says to you and turn it into a conversation that lasts longer than two minutes.
Result?
You'll be feeling comfortable and confident when it comes to talking to women throughout the conversation.
Once you're able to have more meaningful conversations with women that go beyond the small talk topics, you'll need to get her number.
Chapter 4 will tell you when to ask, how to ask, how to get a woman's number, and how to text her for the very first time.
And what quickly follows is all about:
How to text her,
How to keep her interested, and
How to get her to commit to a date.
What follows when you get a girl to commit on a date with you?
You now get to see her face to face and stimulate attraction. That is what Chapter 5 is all about–building physical and sexual attraction.
You'll learn what attraction actually is and what women are attracted to, and explore different ways to attract a woman.
If a girl is not immediately captured by your handsomeness, you want to create an interest in her that makes her want to get to know you better.
How?
By playing hard to get and avoiding seeming desperate, you will amp up any woman's attraction for you.
Moreover, you'll learn how to use your body to build sexual tension and attraction in more depth.
And that includes the two secret body language tactics that will make any woman want to sleep with you tonight.
Here's what the author has to say about it:
This is going to make any girl think crazy sexual thoughts in any girls…and trust me, I know…because I am one.

Using this little secret will force a girl to feel a sense of obsessive desire for you for as long as you want, and you will make her psychologically addicted to you. All you will have to do is sit back, relax, and watch as a woman begins chasing you like a sex-crazed animal."
Seduce
Once you understand how to seduce a woman and leave her wanting more of you and the three things that you have to do to make her horny and wanting you, you will land on Chapter 6 Subliminal Signal System.
How do you create instant attraction and desire in a woman using subliminal signals?
Don't be surprised.
This is all about using nonverbal communication to make a woman feel good when she is around you and want to continue to get to know you.
You'll learn how your body language affects a woman's feelings towards you and how you can alter your gestures to make a girl even more attracted to you.
You'll also learn how all of this relates to attraction and making a woman obsessed with you. Want more? Me, too!
No worries.
Next, you get the 9 things that you can do with your body to let a girl know that you're interested in her without saying a word.
After that, the author drops you a study about mirror neurons and how if you can be the one in charge of setting the tone and directing the interaction with a woman, you can essentially take it in any direction that you want.
In Chapter 7, you'll learn a specific sequence of dates that leads to sex and intimacy, answer some of the hard dating questions such as who should pay for the date, when should you kiss a girl, and when is the right time to sleep with her.
That's not all.
Secure
The shift happens here where you'll learn about defining the relationship when you are in the situation where you have been seeing someone steadily, and things are going well.
You'll learn some useful stuff to know before getting in a relationship like, how to tell if you are ready to take the relationship to the next step, when you should have "the talk," and defining what cheating is.
Of course, the next step is making the woman that you are dating into your girlfriend.
And once there is no more ambiguity regarding your relationship status, you'll learn in Chapter 8 How to Keep a Girl Interested Long Term.
You'll have the tools to maintain a healthy relationship. Here's a list of what you can expect in this section:
How to communicate to establish a supportive relationship.
How to use the -I- voice.
How to have tough conversations with your girlfriend.
How to talk about sex with your girlfriend.
How to keep the love alive and exciting.
Something of note here is an exercise that is designed to build trust and intimacy between you and your girlfriend.
You'll learn how to open your mind when it comes to sex and physical intimacy.
By the time you reach the end, you'd have learned enough tools to help you maintain a happy, healthy, and sexually active relationship with the woman of your dreams.
As you can see, The Obsession Method covered almost everything that you could possibly need to know to make a woman fixated on you, and only you.
You have the tools to approach any woman that you want, talk to her, get her phone number, build attraction, and use your body language effectively to make her obsess over you, as well as how to keep a girl interested in you long term.
What you want to do with this information is up to you.
However, if, at the end of the day, you just want someone to be on your side, and you find value in what this program covered, you can get instant access to your own copy by clicking the link below.
Visit the Official Product Page
Final Thoughts
You do not have to read past this point if you're already sold.
As you've read above, Kate Spring's The Obsession Method covered a lot of information from approaching a woman to keeping a relationship alive.
And if you haven't taken your Dating and Relationship 101 before, this is a good place to start.
Actually, this is more self-help than a "get the girl" kind of dating program. This contains advice, not just on your dating life, but the other things that influence it as well.
On the other hand, if you've been a long time reader, most of what you'll find here, you already know.
So if you know your stuff, don't expect to be blown away.
You can skip this program.
But if you'll comb through each page, as I did, you will still find some interesting and useful information. There is that bit about the "would you rather" text, the use of emoticons, and quasi-courtship I've mentioned before, among other things.
However, since this book tries to cover a lot of things, you won't find much in-depth information about a topic that goes beyond the obvious (though not all the time) and quickly moves on to the next part.
Don't expect to be entertained by both the book and the videos. Although Kate started lively and animated, by the end of the videos, she seems tired and bored. (But maybe that's just me, using my mirror neurons.)
Additionally, although both ebook and videos cover the same thing, there are sections where the book contains more details, and sometimes, the reverse is also true.
The inconsistencies don't stop there. I kind of liked the exercises in the first two chapters, but after those, it seems they got dropped off somewhere, never to be seen again.
Have I told you about the titles? No? Well, they sound impressive, but they're mostly air. What Sensual Emotive Xeroxing?
On the bright side, The Obsession Method is well-written and professionally designed. And, if you appreciate a female perspective about finding a girlfriend that covers a little bit of everything, you can give it a look using the button below.
By clicking, you'll be taken to the vendor's page where you can have access to the complete Obsession Method program almost immediately.
Disclosure
: My posts may contain affiliate links. That means if you buy something through one of those links, I will get a small commission — at no extra cost to you — on qualified purchases. You have my full appreciation for helping to keep this site up and going for all of us. You can read my
full disclosure here
.